Accessing the content performance insights on Twitter
For every campaign you work on with GetCraft, you will be required to submit the performance insights. Almost all contents' performance is tracked for 7 days, though some clients may ask for the performance to be reported after 14 days (or any other specified time period).
After the stipulated number of days over which the performance is to be tracked (7 days or as specified by the client), you should submit the performance insights, to fulfill your obligations to the client, and for the payment process to begin.
Below are the steps for accessing your insights for each specific content type on Twitter:
On your home feed, click on your profile's Display Picture (DP), and in the subsequent menu, click on 'Profile' (you can also skip this step and go to your profile directly if you want).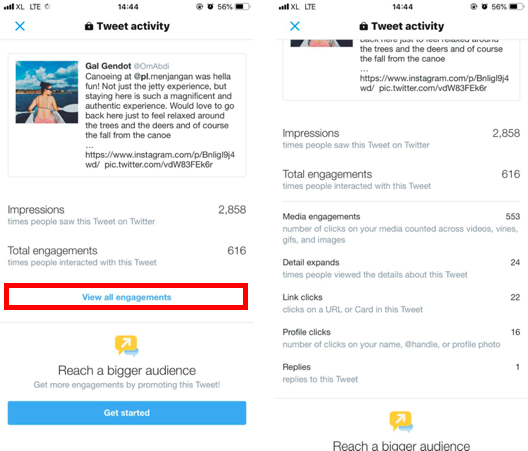 2. On your profile's feed, look for the tweet which you posted for the client and would like to see the performance insights. Look for the small graph icon at the bottom right of the post; click on it.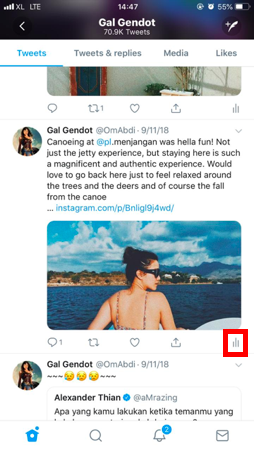 3. Here, you will see a summary of the post's performance. This is the first screenshot you are required to submit (left picture below). Click on 'View all engagements' (as seen in the image below) to get all the details of the post. This is the second screenshot you are required to submit (right picture below).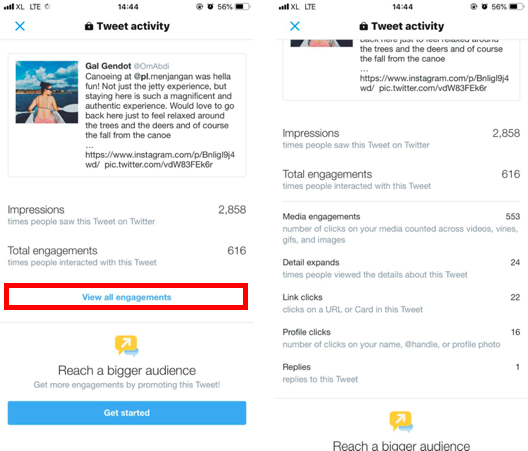 The reason we require 2 screenshots is that in the detailed insights view (as seen in the right picture above), sometimes the preview of the tweet you posted might be too long to see in the same screenshot as the details of the performance. Hence the client cannot verify if you are reporting the analytics for their post or some other post.
When you submit the 2 screenshots, the client knows from the summary view and the detailed view that the insights are for the same post - by comparing the numbers for Impressions and Total engagements on both the screenshots.
What's next?