Reporting the performance of the articles through Google Analytics
At the end of your campaign (usually 7 days/1 week), you will be required to submit the performance report to the clients. GetCraft's policy requires publishers to submit screenshots from dashboards, and not just numbers listed in an MS Excel file, or on your own custom performance deck. Do note, this is a requirement in order for your payment to be processed.
While you are free to send a custom deck (as a way to brand yourself), the deck should still contain screenshots from dashboards - either from your Google Analytics or backend's dashboard. However, since Google Analytics is more recognizable, it would be better to submit those screenshots.
Below are the steps to access your Google Analytics dashboard:
Login into your Google Analytics dashboard, which will take you to your dashboard's homepage. On the sidebar, click on 'BEHAVIOR', followed by 'Site Content', followed by 'All Pages'

Figure 1: Google Analytics' Dashboard - Home.
In the following screen's search bar, enter the content's URL. Do note that you only need to enter the URL portion AFTER the ".com" part of the URL. That portion of the URL is a unique address for the specific page you want to analyze.
For example, if the URL of the page you want to track is http://academy.getcraft.com/how-to-build-a-strong-influencer-marketing-strategy, the portion to copy is "/how-to-build-a-strong-influencer-marketing-strategy". Make sure you copy that string as it is, otherwise your dashboard will not be able to obtain the analytics.

Figure 2: The portion of the URL to be copied, which is to be entered into the dashboard search bar.


Figure 3: The search bar where the copied section of the URL is to be entered.

When you enter the page's specified URL, your Google Analytics dashboard will then show you insights about the page's performance. To find out get an in-depth understanding of how your content has performed, you could view the data based on a variety of criteria. The demographic profile of your readers would be a significant one.
To do so, simply click the 'Secondary Dimension' button. Here, you can see multiple criteria for you to manipulate and visualize your data with. To find out the demographics of your audience, look for the 'User' heading. Here you can then select either Age, Gender, City, or any other criterion to visualize your data with.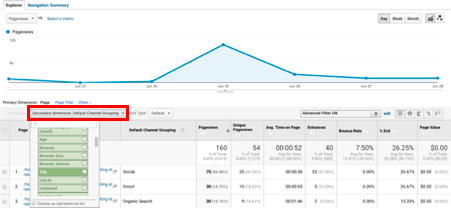 Figure 4: You can visualize your data based on a variety of criteria.

Do note, for certain criteria such as Age and Gender, the data may not be complete - the total number of view for both genders, for example, may not be the same as the total number of viewers for the article. This is because, for those demographics, Google Analytics only counts views for readers who were logged into their Google accounts. But for views by City or Country, the data will be logged based on the readers' IP addresses - essentially data which can be captured without logging in.
Similarly, if you click on 'Secondary Dimension', and in the 'Acquisition' section select 'Source', you will be able to see which channel is driving the greatest traffic to your website. So, if, for example, you have shared your article on your Facebook and Twitter pages, and done SEO/SEM, you will be able to see what proportion of traffic comes from each specific channel.

What's next?