Know the campaign objectives, the timeline and where to send your content to
Once you have been finalized as one of the content creators for an upcoming campaign, you will receive the following from our Customer Excellence (CX) team PIC for the project: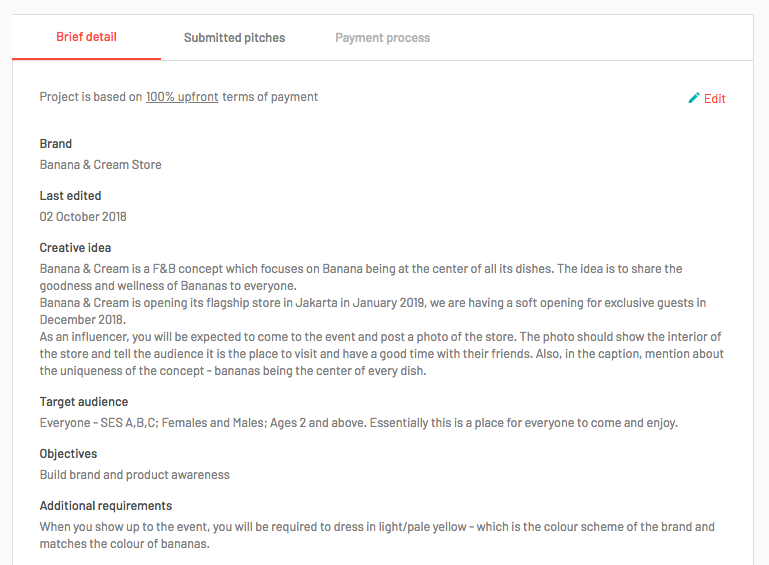 The Brief - The brief is provided by the client and GetCraft to help you better understand the objectives of the upcoming campaign. It contains the following information:
a) Details about the client and their product/service, and some information about their upcoming campaign.
b) Information about the content to be produced - This includes a creative idea for story - what should the content (text, photo, video) portray and things to include in the posts (such as tags to specific social media pages, hashtags, etc.). If you are contributing multiple pieces (eg. 2 photos) and/or types (1 photo and 1 video) of content, the brief will explain what is expected from each content (as seen in the sample brief above).
c) Information about the target audience (demographics and psychographic) - understanding this will help you in better engaging the audience's attention and maximize your outreach.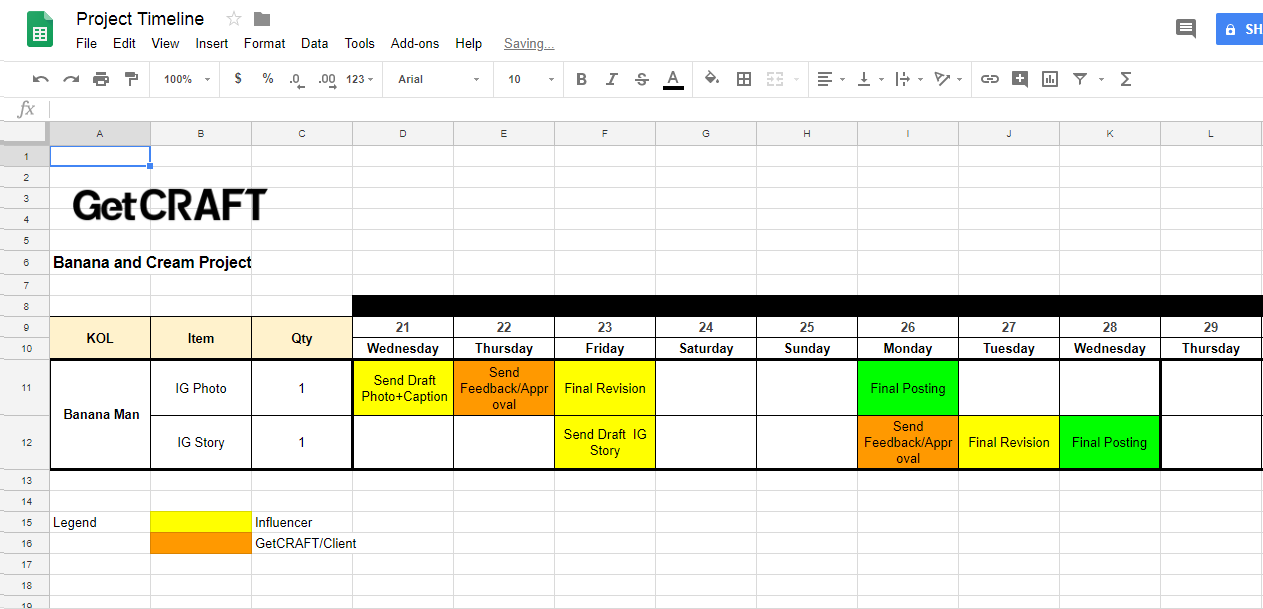 The Timeline - The timeline tells you of all the key dates in the project, primarily when you should send the draft content for the client to view, when you should be expecting feedback, when you should send the final revised content (based on the feedback), and when you should post the content online.
The picture above shows you an example of a timeline for an influencer (Banana Man) who is expected to create 1 Instagram Photo and 1 Instagram Story for the Banana and Cream campaign. The dates with Yellow highlights indicate actions from the influencer and the Orange highlights indicate actions from clients/GetCraft.
Submissions Folder - This will be created and shared by the CX PIC; this is where all the content you create will be uploaded. To upload content onto a Google Drive folder, simply click on "New" and select the "File Upload" option. From the subsequent pop-up, select all the content files you would like to submit for the client to review.
Next Step: