How to review comments, questions and pitches from Creators?
Once your brief has been sent out to Creators, you will need to monitor any responses, questions, and pitches that come in. Creators can respond to briefs in two ways:
By using the comment function on the brief - viewable by all invited to pitch
By submitting their creative pitch for review - viewable by you (the client) only
1. To view a project that is in the "Briefing" stage, click the 'My Projects' button at the top of the page. This page will show you a summary of all projects you have running.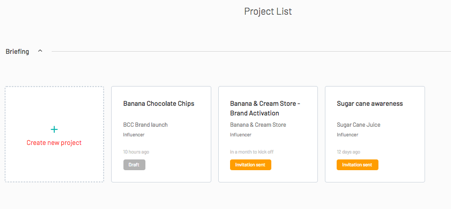 2. To review and respond to the creators' comments, select the project you want to review and you will see the 'Brief Detail' page. Type your responses in the text box at the bottom of the page and click 'Send'.
At the bottom of this page, all the comments (from all the creators and you) will appear in a thread.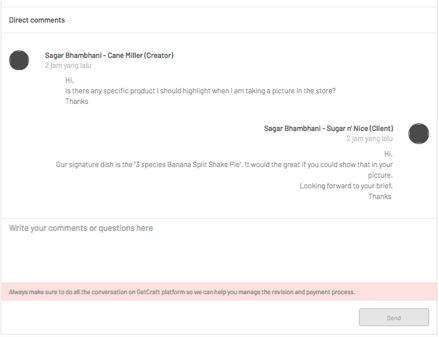 3. To review creative pitches submitted by creators, select 'Submitted Pitches' tab, which is beside the 'Brief Detail' tab at the top.
You can now review all the pitches that were submitted, on one page, and from there, provide feedback/request changes if you would like the creators to revise their ideas, or you can simply Approve or Reject their ideas. This page shows you all the pitches that have been "On Review" "Selected" and "Archived". A pitch which has just been sent in will, by default, be "On Review".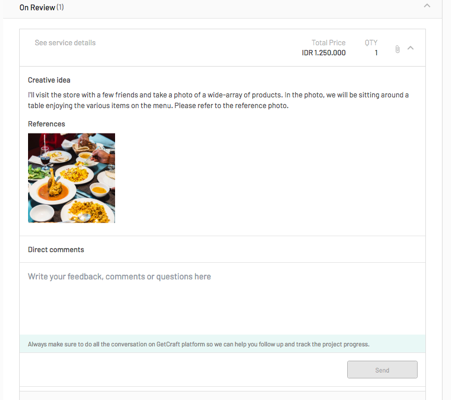 You can also comment specifically on the pitches sent in by creators. This communication, however, will be only visible to you and that specific creator.
Creators will not be notified of an Approval or Rejection at this stage so you can move them between the stages ("Archived" or "Selected") multiple times until you make a final decision.
If you 'Select' pitches, you have the option to send feedback to the creators, either to tell them how they could improve on the pitch or any other additional information pertaining to the pitch.
Note: you will have to do this individually for every pitch you have 'Selected'.
If you decide to archive a pitch, you will be asked the reason for not selecting it, which would help the Creator understand where they fell short and what to improve on, in the future.
What's next?