Adding a sponsored content service to appear in the marketplace.
To create a Content Production service, click on 'Sell Services' (on the top of your screen, followed by 'Add a new service'.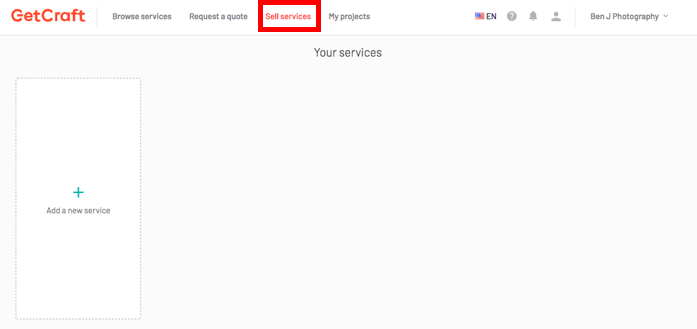 Sponsored Content allows you to offer your services for paid content posts to be posted/published into your own media or Social Media channel (Mass Media or Influencer) or your website (for Publishers).

Adding a Sponsored Content service
1. Service Title: Type in the name of your product (for example 1 x Sponsored Article, or 1 x Instagram Video Post).
2. Service Type: Select from the drop down options of Publisher or Influencer.
3. Service Sub Format: Select the sub format (for example, if I chose Influencer, I would have many options including: Article or Blog post, Facebook Post or Video, Infographic, Instagram Photo or Video etc.
4. Service Description: A great description helps clients connect with you faster. The description doesn't need to be too lengthy as long as it covers the important points.
What is the service you are providing?
What area or topic does it cover?
What is unique about the service you provide?
What are the services your rate includes and excludes? (e.g. props rental is included; location rental is not covered).
Tip: Try and think what you would want to see if you were searching for a service of this type and what would interest you as a viewer.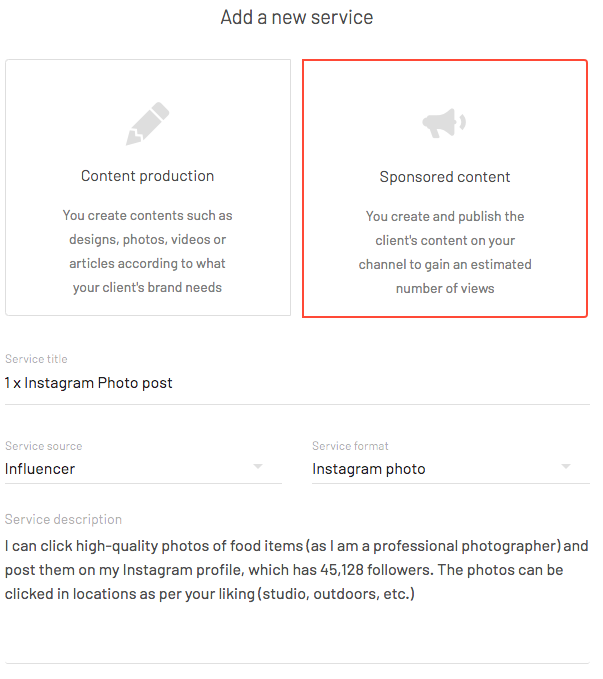 5. Language: Select the language by the sample that you upload.
6. Tags: When adding tags to your service, be sure they match to the samples that you are uploading, this will help in the filter/search when clients are searching the marketplace trying to locate your expertise that specifically fits their brief.
Note: We allow a maximum of 3 tags per 1 service card.
7. Guaranteed Views: Metrics are very important to clients and being able to set guaranteed views and meet the target will mean repeat work.
When setting your guaranteed views, you can also refer back to your previous sponsored posts to see what average views you have been able to achieve. Analytics are available for most of the social platforms, though for Instagram you should apply for a business account, which means you will require a Facebook Page.

If you are concerned about meeting a guaranteed number then reduce your guaranteed views, then over time when you see your views increasing per each post, you can start to increase your guaranteed views to remain competitive.

Your guaranteed views should be set to the below duration:
Instagram Photo (7 Days)
Instagram Video (7 Days)
YouTube (30 Days)
(You can see some tips on how to ensure you achieve your KPIs here - http://thecrafters.co/ph/proven-ways-to-achieve-your-kpis/)

8. Cost: When setting your cost, allow for a cost that covers the production and caption. You can cost for variables later when client gives you a clear brief., i.e. Travel (if applicable).
9. CPV - Cost Per View: Once you have input your Guaranteed Views and Cost, the CPV will automatically calculate for you.
10. Service Cover: This will be the first picture brands see on the marketplace, so, make it a good one by adding an image for your service that really stands out.
Note: file size limit is up to 5MB and 400 x 400 pixels, file formats jpg or png.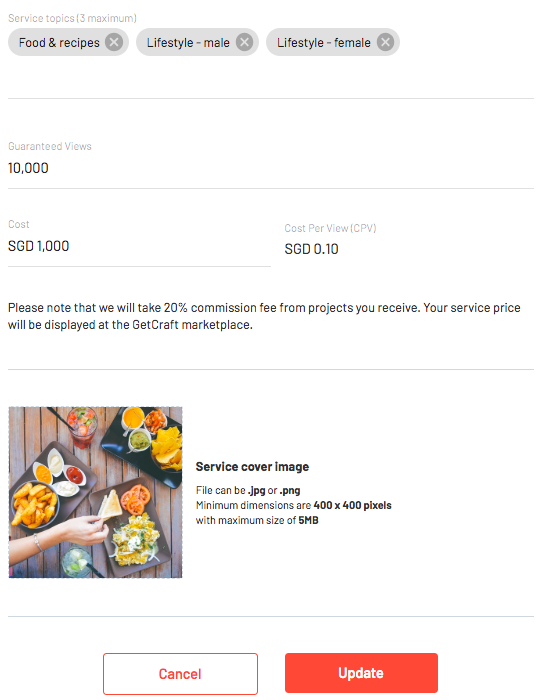 Press Save.
11. Adding Samples: simply click on the 'Upload Example of Your Work' box and select the images relevant to your service. The images will appear at original size when client clicks on them.
Note: file size limit is up to 5MB and 400 x 400 pixels. The acceptable file formats and sizes are:
Images: JPG, PNG, PDF up to 5MB and 400 x 400 px
Video: MP4, MOV up to 500MB (recommended)
Please wait a few seconds for the upload to start.
12. Once you have uploaded all your samples that fit the Tag/Category, you can click 'Back to Service Preview' and you have now created a Sponsored Content Service card.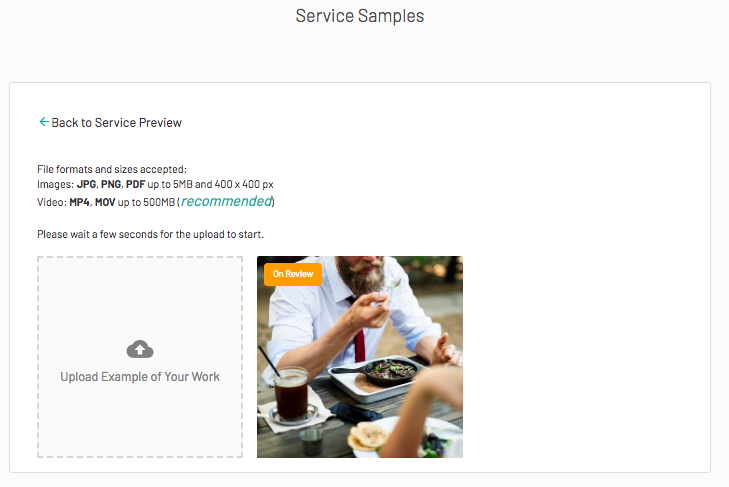 Your Service Cards will also remain 'On Review' until the GetCraft Team has Quality Controlled and approved both Service Cards and Service Samples. Once approved, they will appear on the marketplace.

What's next?